Super Strawberries & Cream Bread
CoffeeB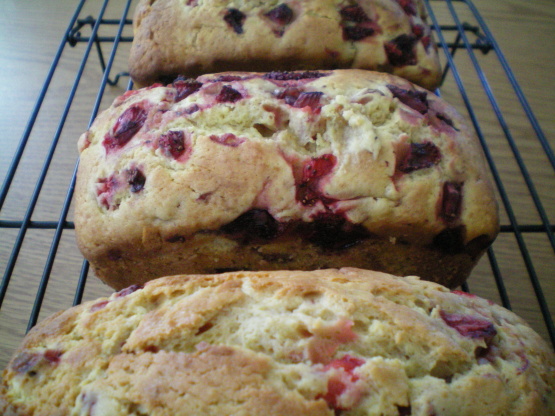 This is a collaboration of two recipes I found here on recipezaar, Strawberries & Cream Bread (Strawberry or Blueberry) and Strawberry Coffee Cake. My Fiance LOVES just about anything with Strawberries in it, so I went off tying to find some new things to make for him and came across those two recipes. Both are VERY delicious. :) So, after trying both, my Fiance and I found different things that we really liked about both and brought them together, creating a SUPER Strawberries & Cream Bread. We're silly people. :) Anyhow... I measured out everything, except the strawberries, walnuts and pecans. Some people may want to add more or less, I just listed the amount from the original recipe. You, too, might want to try various things to see what works for you. I, personally, think it tastes best when served hot or warm, as it is more flavorful. No matter how you have yours, I hope you like it! I haven't tried it with blueberries, yet, but I'm sure it would be SCRUMTRULESCENT!

wow! This bread was super good! I used a muffin tin and it made about 12 good sized muffins. I also swapped out oil for the butter (since I was out of butter at the time) and it worked out pretty well. Nice and moist with the perfect amount of sweetness. I will definently be making these again soon!
Combine flour, baking powder, baking soda, salt and cinnamon; set aside.
In small bowl, beat butter until creamy; Gradually add sugar, beat 1 minute or until light and airy; Add brown sugar; Beat in eggs, one at a time; Beat in sour cream and vanilla.
Stir into flour mixture only until dry ingredients are moistened.
Fold in chopped strawberries and nuts.
Pour into a greased and floured baking pan. Just about any pan could probably be used (a loaf pan, springform pan, etc.), just keep in mind that the bread will rise, so you want to make sure your pan is deep enough to avoid overflowing. I used roughly a 10.5 inch, round pan, about 2 inches deep.
Place sliced strawberries, evenly, over the top of batter.
To make the topping: Combine the flour and sugar in a bowl.
With a fork or a mixer, cut in and mix butter until consistency of cookie dough (the best way I can think to describe it).
Tear topping into little chunks and spread evenly over top of sliced strawberries. I had just enough to cover them completely, however, as stated above, the amount you need will vary depending on the size of your pan. If you use a bigger pan, you will need to make about a batch and a half of what is stated above for the topping. If you use a considerably smaller pan, like a loaf pan, you might want to cut the topping recipe in half. It's hard to mess it up, so do what you think will work. :).
Bake at 350°F for 60 to 65 minutes or until toothpick comes out clean (cooking time may vary; it took about 90 minutes in my oven).
Remove from oven and let cool for about 10 to 15 minutes.
DIG IN!