Super Simple Super Yummy Appetizer
Linky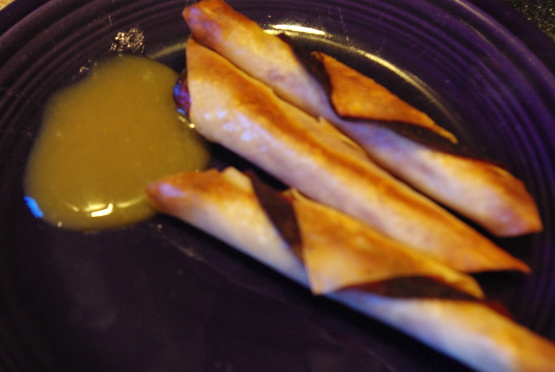 It doesn't get much easier than this and only 2 ingredients. Everyone who has tried these loves them. These can be made up ahead and frozen untill needed. The best part is you can make as many or as few as you need.
1

(16 ounce) package wonton wrappers
1⁄2 lb thinly sliced hard salami, from the deli
Lay wonton skin on table so that a corner is toward you. Place slice of salami on the skin . Roll up like a cigar from corner to corner, moisten tip of wonton with a little water to help hold together. Place on a cookie sheet seam side down. When you have as many as you want rolled, bake in preheated 375 degree oven about 10 minutes or until they turn lightly golden.
Serve hot from oven or at room temp with a little honey mustard for dipping.
I usually make these up ahead and freeze them unbaked untill needed.