Super Simple Stir Fried Asparagus
lazyme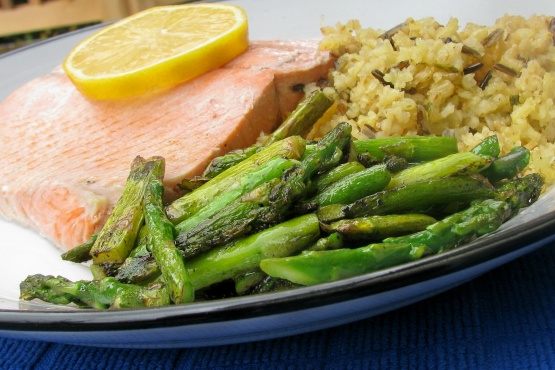 My steamer was already in use one day when I wanted to cook asparagus for dinner, and since necessity is the mother of invention and I am basically a lazy cook I came up with this and it is the way I usually cook asparagus now.Super quick and simple. I use clarified butter as I am lactose intolerant but I seem to be able to use the fat part of butter and get the flavour but not the sugars.I prefer the flavour of butter but you could use just about any kind of oil or even bacon fat.
Wash asparagus, drain well and snap off tough ends.
Cut stems into 1 to 1 1/2 inch pieces.
Melt 1 tablespoon butter over medium high heat in fry pan.
Toss in asparagus and stir fry 2 to 3 minutes.
Add 2 tbsps water and cover.
Steam 2 to 3 minutes or until cooked to your preference.
Enjoy.