Super Simple Smoked Salmon Crostini
Linky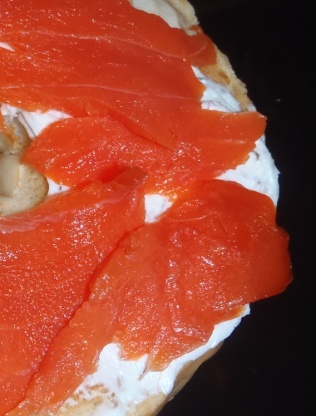 This recipe comes from Real Simple (and it is real simple!). This is a great little appetizer.

I am not sure how I missed this recipe during the Quest, but now it has been made for the Sweet December Tag Game. This recipe would be welcomed into every Icelandic home & some version of it is often eaten for breakfast, lunch, afternoon coffee or starter dinner courses. I halved this recipe for 2 of us using individual baguette rolls & sliced them the same as you would baguette bread. The recipe was otherwise made as written except that I also added 2-3 sml pieces of very thinly-sliced red onion plus a few capers atop the crostini. Eaten as a starter snack before a leftover meal, DH & I were very happy. Thx for sharing your recipe w/us, Agent Special K.
Heat oven to 400°F Place the baguette slices on a baking sheet and brush both sides of the bread with the oil. Bake until golden brown, 4 to 5 minutes per side.
In a small bowl, combine the cream cheese, horseradish, and 1 tablespoon dill; season with ¼ teaspoon each salt and pepper.
Dividing evenly, spread the cream cheese mixture on the toasted baguette slices. Top with the salmon and sprinkle with the remaining tablespoon of dill.