Super Simple Shepherd's Pie
smramage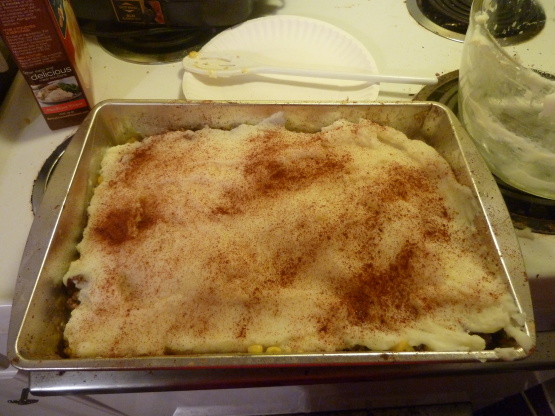 My dh gave me this recipe when we were first married. My 3 kiddos love it with ketchup!!!

I use this recipe for my shepard's pie. It is great. My husband loves it! Be careful browning the top under the broiler. I sometimes burn it!! But it's always a cheap, simple hit!
Peel & quarter the potatoes. Place in pan, cover with water & boil until cooked all the way, about 45 minutes.
Brown ground beef with the chopped onion. And drain.
Drain potatoes & mash. Mix in butter, sour cream, salt, pepper, & garlic powder.
Put ground beef & onion in 13x9 pan. Mix in all 3 cans of corn. And top with the mashed potatoes. Sprinkle paprika over the top.
Bake in 350 degree oven until bubbly, about 20 to 30 minutes. Turn on broil & brown the top for just a few minutes.