Super Simple Pineapple Cake
ladypit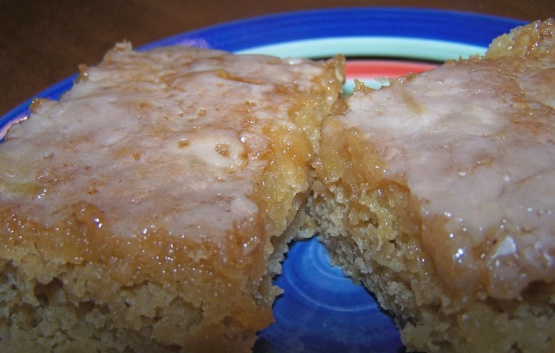 This cake takes just minutes to prepare and tastes great. It's a low fat recipe because there's no need for eggs or butter. I frost it with a powdered sugar glaze sweetened with some pineapple juice, but you could substitute cream cheese frosting.

I decided to take a chance on this recipe, and I'm really glad I did. Simple and easy to make I was able to prep this while on the phone. I used whole wheat pastry flour and half splenda. For the milk I used skim. I made this specifically to put in my son's lunchbox. He really enjoyed it, as did my husband and I. My daughter was not as much of a fan, but she seems to have something against crushed pineapple! I have frozen a few pieces for later lunches. I figure that the glaze will somewhat come off on the foil during defrost, but my son (7) will probably just lick it off anyway! Thanks so much for such an easy low fat recipe!
Combine flour, sugar, vanilla, baking soda.
Gently mix in undrained can of crushed pineapple. Reserve 2 tablespoons of the pineapple juice to use in the glaze.
Pour into greased and floured 9x13 pan.
Bake at 350 for 35-40 minutes, until center is set. Let cool for 5 minutes.
Frosting: In a separate bowl, combine powdered sugar, vanilla, pineapple juice, and milk. Add more milk if the mixture is too thick. It should be a little runny.
Pour glaze over hot cake.