Super Simple Lamb Marinade
Lorac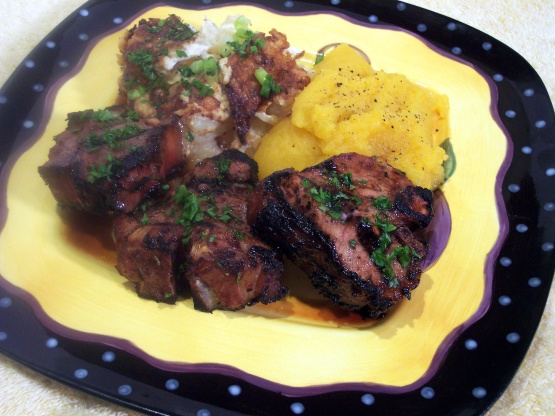 This is such a simple marinade, so easy to prepare and best of all - it's done in a big zip-lock bag, so there's no mess to clean up. It's great for grilling or for roasting. I use it on any cut of lamb. I'm splurging on two 1-pound pre-frenched racks of lamb from "New Zealand Fresh Lamb" for our anniversary. It makes enough for about 2 - 2 1/2 pounds of lamb. You can always vary the few spices in it to suit your taste.
This was absolutely FABULOUS!! I was extremely apprehensive because I tasted it before I put the lamb in thought it was SO overpowering... It wasn't at all. It lended itself perfectly to the flavor of the lamb (after 15 hours of marinating!). I did realize after that I forgot to add the honey but honestly the other flavors were so amazing that the honey wasn't missed.
Add all ingredients to the zip-lock bag, seal, and smoosh around to blend everything together.
Dump your lamb chops or racks in and marinate in fridge for at least 4 hours or up to 24 hours.
Take out and bring to room temperature before cooking.
Heat up your oven or grill and cook away, using the remaining marinade for an occassional basting!