Super Simple Crock Pot Roast
PaulaG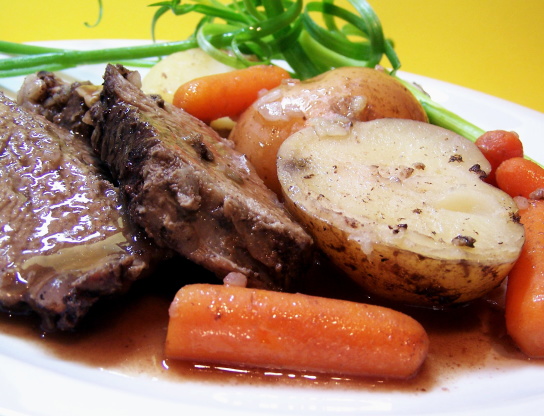 I got this recipe from a family friend. It is so simple that my 12 y.o. son will throw it together for me without complaining! Feel free to use any beef or pork roast you prefer. I have been known to use a chuck roast and a pork roast at the same time.

made this several times now, sorry I'm just getting to rating it. Delicious!! I always like to sear the meat before putting it in the crock pot, to sort of seal in the juices, not that dryness has ever been a problem, just a habit. I also seasoned in with some garlic powder, creole seasoning & montreal steak seasoning before searing in on the stove for a few minuted each side to brown.
907.18-1360.77

g arm roast or 907.18-1360.77 g beef shoulder

35.43

g dry onion soup mix

709.77

ml water

4-5

medium red potatoes, cubed

473.18

ml baby carrots
Combine 1st 3 ingredients in crock pot and cook on low for 7 hours or high for 4.5 hours.
45 minutes before serving add last 2 indgredients. The smaller your diced veggies the faster you can serve.