Super Simple Clam Chowder
Parsley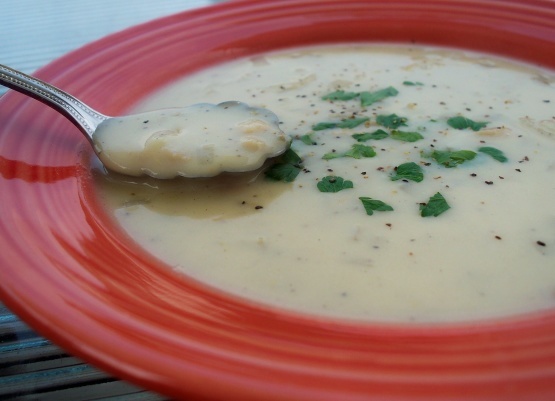 A quick and easy chowder that's on the table in less than 1/2 hour. I like to add some seasonings and a dash of hot sauce for a little more kick. From America's Best Recipes.

This was good and easy to make but I did make some changes as I too thought it was a bit thin. I used three cans of cream of potato soup and four cans of clams as hubby loves clams. I drained two and added the juice of two. I only added 1/2 teaspoon of pepper and added some mashed potato flakes to thicken it up a bit. Next time I would cut back on the chicken broth a bit. We all enjoyed this even though it was 90 degrees outside!
Melt butter in Dutch oven over medium heat; add garlic and onion, and cook, stirring constantly, until tender.
Add broth and next 3 ingredients.
Bring to a boil; reduce heat, and simmer 15 minutes.
Stir in half and half, and cook over medium heat until thoroughly heated.