Super Simple, but Oh so Tasty Tomato Soup
Ms B.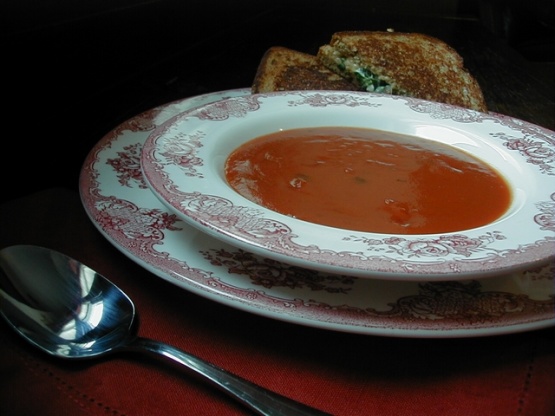 This was inspired by another tomato soup recipe with additional ingredients. I kept it simple and made a great soup to pair with grilled cheese.

Great, quick, jazz-it-up recipe! I love tomato soup, and this was an easy alternative to the good ol' standby. I actually had Basil, Garlic, & Oregano Diced Tomatoes, and they were great. Tip: make sure the onions are tender in step one—soup shouldn't require a lot of chewing! ;-)
In a saucepan, sauté onion in butter until tender.
Stir in seasoned tomatoes (with juice), soup, and milk.
With a wand blender, whirl soup until desired consistency.
Bring almost to a boil.
Reduce heat; cover and simmer for 10 to 15 minutes.