Super Shrimp and Garlic Bruschetta
Bergy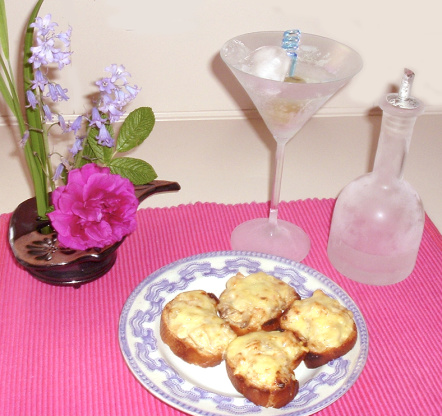 I created this today from ingredients that I had on hand to serve as my Sunday afternoon appetizer. It was so tasty (IMHO) that I decided to post the recipe., If you like a crisp bruschetta toast both sides of the bread. This appetizer went over well served with a Martini but I think you will enjoy it even without the Mart Mart!

Top Review by KeyWee
This is positively ToDieFor!! One day, I swear I am going to make this whole recipe and eat them ALL myself!! As it was, I tripled this recipe for a party and got exactly one appetizer - boohoo! I made this recipe exactly as posted (except for the triple order) but left out the mushrooms as DH doesn't care for them. Also, I grilled the bread slices on my gas grill the day before the party and made up the spread the day before, too. So easy to spread and then pop into the oven when guests arrive. Thanks a ton, Bergy, this is a definite keeper, and everyone wanted the recipe, too!
1

teaspoon olive oil (or spray a small skillet with olive oil)

6

ounces raw shrimp or 6 ounces prawns, chopped

3

garlic cloves, finely chopped'

2

medium mushrooms, minced

2

tablespoons onions, finely chopped
salt and pepper

4

tablespoons cream cheese, plain or flavored (I used garden vegetable lite)

6

drops hot sauce (more or less to suit your taste)
salt and pepper

8

slices cheddar cheese, pieces (enough to cover each bruschetta, I used aged) or 8 slices of your favorite cheese (Neerdammer is excellent)

8

slices baguette, 1/2 to 3/4 inch thick
olive oil, enough to lightly paint one side of the bread slices
Lightly paint one side of the bread slices with oil and place under the broiler, oil side up and lightly brown the bread- remove from oven (you may do this the day before and keep them fresh in a sealed tin).
On an oiled skillet saute the garlic, onions & mushrooms until almost golden- add chopped shrimp and saute for about 2 minutes or until the shrimp meat is just cooked (do not over cook).
Add hot sauce & season with salt & pepper.
Add cream cheese and mix well, cover & store in fridge until just before serving, have it at room temp when you are ready to spread the mixture on the bread slices.
Heat oven to 375 degrees F.
10 minutes before you want to serve evenly spread the shrimp mixture on the unbaked side of the bread, take it out to the edges.
Cover with the thin slices of cheddar.
Place on baking sheet or a pizza stone and bake at 375 degrees F for apprx 10 minutes or until the cheese is melted.
Serve warm or hot.