Super Shooter Whipped Shortbread Spritz Cookies
Karen..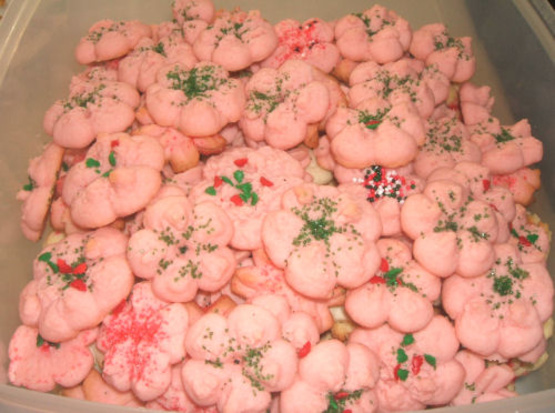 This recipe is reported to work well in the Proctor-Silex Super Shooter or Super Shooter Plus cookie press. It will also work with other cookie presses if the dough is refrigerated first. I lost my recipe book for the Super Shooter and found most spritz cookie recipes to be too stiff to work in my machine. I found this recipe through Google searches at www.christmas-cookies.com.

When I was young, my mother always made lots of shortbread cookies and lots of spritz cookies from two different recipes. I have always done the same, out of tradition. The shortbread cookies were very time-consuming to roll out, and frequently very frustrating. This recipe is great! I can get the look of the spritz with the melt-in-your-mouth taste of the shortbread all in one...and without the frustration. I will never make both recipes again. Thank you!
Preheat oven to 350°F.
Cream together butter, powdered sugar, vanilla and salt.
Gradually add cornstarch and flour.
Whip with an electric mixer until fluffy.
Place dough into a cookie press and press cookies out onto a COOL baking sheet.
Decorate with candies, or candied cherries if desired.
Bake 12-15 minutes.
Let cool for 2 minutes on baking sheet.
Then remove to wire rack to cool completely.
Store in an airtight container at room temperature.