Super-Rich Virginia Crab Cakes
Ms B.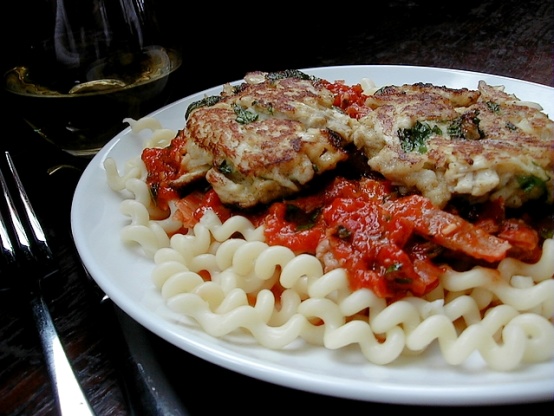 Excellent crab cake recipe! Could be used as a main course or an appetizer. Taken from Gourmet Magazine, Feburary, 1995 issue and presented by Jessica B. Harris.

I love crabMEAT, however, in general I'm NOT a crabCAKE lover because the ingrdients tend to overpower the subtle taste of the crabmeat. This recipe is the first and ONLY crabcake I have ever tasted that doesn't allow the flavor of the crabmeat to get lost. Surprisingly simple and yet it tastes like sophisticated dinner.
In a bowl, combine crab meat and bread crumbs.
In a small bowl, whisk eggs well and add cream, whisking.
Add cream mixture, hot sauce, Worcestershire sauce, parsley, onion and salt and pepper to taste to crab mixture and combine well.
In large heavy skillet, heat 1 tbs butter over moderate heat until foam subsides and into it drop half of crab mixture by tablespoons.
Cook crab cakes until golden brown, about 2 minutes, on each side, and repeat with remaining tablespoon butter and crab mixture.
Serve crab cakes warm.
Makes 24 crab cakes.