Um Safia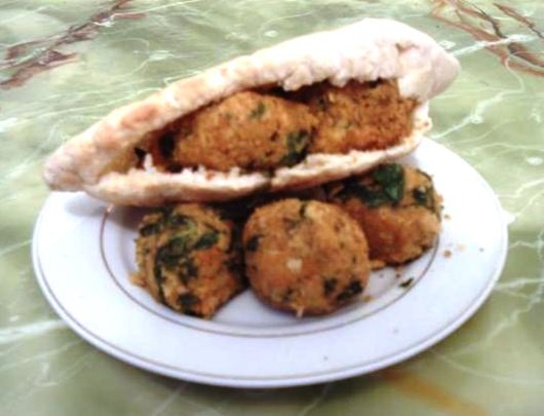 Serve hot or cold for a tasty vegetarian snack. Great for picnics, packed lunches, kids meals etc. PLEASE NOTE: THESE ARE BEST GRILLED/BROILED. Spray them with oil & under med/high heat.
It sounds good but I tried makig falafels once and they came apart when they went into the oil. I was looking for a recipe that you could bake so they hopefully wouldn't disentragrate! Does anyone know what I done wrong that made them fall apart? My son love falafels but I can't make them for him ....
Mash the chickpeas or puree coarsely in a food processor. Mix with the cumin, coriander, garlic and chilli. Season and divide into 24 pieces of equal size. Shape each piece into a ball.
Heat a little oil in a frying pan and cook the balls for approximately 6 minutes each or until crisp and golden. This will probably have to be done in batches unless you have a huge pan!
Toast the pitta breads and slit the tops. Fill with the falafel and salad leaves, spoon a little yogurt on to the top too.