Super Quick Exotic Rose Ice Cream
Um Safia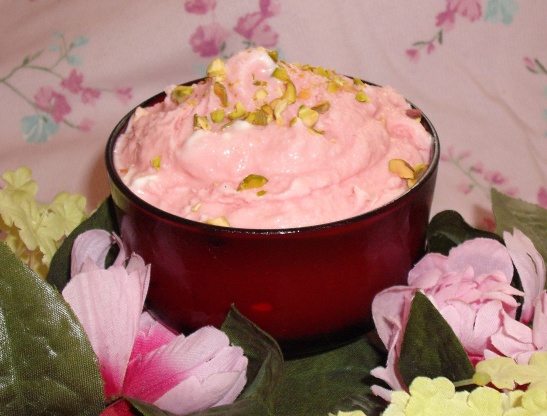 This ice cream is a real treat for all the senses. I wanted to make a special treat for dessert but didn't have a great deal of time so ended up creating this little beauty! Using store bought strawberry ice cream cuts your work & time in the kitchen in half & the strawberry really brings out the delicate rose flavours. If you're serving the ice cream straight away, you can add the meringue nuggets but if it's to stay in the freezer for a while, you may want to leave them out & make meringue nests to serve the ice cream in instead. Prep time includes freezing time. Please note that the recipes does state 10 tablespoons of rose water - this is because the rose water I used here is a very weak one from East End Foods. If you have a nice strong rose water, from an Arab manufacturer, please only use 4-5 tablespoons...or to taste.

This is exotic. I do think the rose water I used definitely did not need even half of the amount called for. I added a couple dashes of cardamom powder along with the cardamom seeds as I couldnt crush them well and I really like cardamom. I made the meringue nuggets to go in the ice cream without cream of tartar by adding a little apple cider vinegar. I think they didn't cook right (were too thinned out, therefore got dark fast) mainly because I didn't make the egg white stiff enough. I did not use chopped pistachios but they would look nice on top. However I don't really like them anyway. Made for Ramadan Tag.
Place the strawberry ice cream in a large freezable, airtight container & gently mix in the rose water. Take your cardamom seeds & roughly grind then add to the ice cream. Place in the freezer to chill whilst you make the meringues.
Preheat the oven to 150-160c. Whip the egg white until soft peak stage then whisk in the sugar & cream of tartar.
Spoon the meringue mix onto a baking sheet lined with aluminium foil. Use the back of the spoon to smooth the meringue into flat circles approx 1cm high & 8 cm wide. Place in the oven & cook for 25 minutes.
Turn the oven off but leave the meringues in the oven to dry out for approx 1 hour.
When the meringues have dried out & have been allowed to cool, chop them up & very gently fold them into the ice cream. Return the ice cream to the freezer for at least 20 minutes or until ready to serve.
To serve the ice cream, spoon into individual serving bowls, top with chopped pistachios & rose petals if using - enjoy!