Super Peanut Butter Filled Brownies
Ashley Cuoco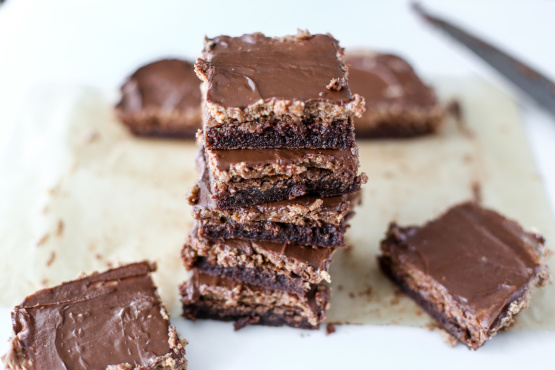 My most-requested dessert recipe. Moist brownie bottom topped with a thick peanut butter filling and topped off with a chocolate glaze. Please watch the brownies carefully and remove from the oven when toothpick comes out with moist crumbs clinging to it. If your toothpick comes out completely clean then they are overbaked and you will end up with a "cake-like" brownie. Glass pyrex baking pans have yielded the best results in my experience. Note: This recipe doubles beautifully!

These are very yummy. I made them for a pot luck, and they flew off the plate. I used cocoa and butter instead of unsweetened chocolate, because that is what i had. Just mix 3 teaspoons cocoa powder with 1 table spoon butter, and it is equal to 1 square of unsweetened chocolate. The peanut butter topping is good enough to eat along according to my wife.
Preheat oven to 350.
In a small saucepan, melt unsweetened and semisweet chocolates with butter over low heat, set aside to cool slightly.
In a mixing bowl, beat eggs and sugar until light and pale colored. Mix in 1 tsp vanilla.
Add flour, salt and melted chocolate.
Stir to combine.
Pour into a greased 9 in square baking pan.
Bake at 350 for 20 - 25 minutes or until brownies test done with toothpick coming clean but with moist crumbs clinging to it.
Do not overbake.
Cool.
For filling, add peanut butter and butter in a mixing bowl and mix until thoroughly combined and smooth. Note: You will get a much taller filling (as pictured) if you whip this with an electric mixture to incorporate lots of air.
Slowly add powdered sugar, mixture will be a bit crumbly.
Blend in cream until mixture is fluffy and reaches desired spreading consistency.
Spread over cooled brownies, cover and chill until firm.
For glaze, melt chocolate and butter in saucepan, stir until smooth.
Drizzle over the filling.
Chill well before cutting.
Let sit at room temperature for 10 - 15 minutes before serving.
You don't want to serve these ice cold out of the refrigerator.