Super Moist Spelt Flour Carrot Cake
Jubes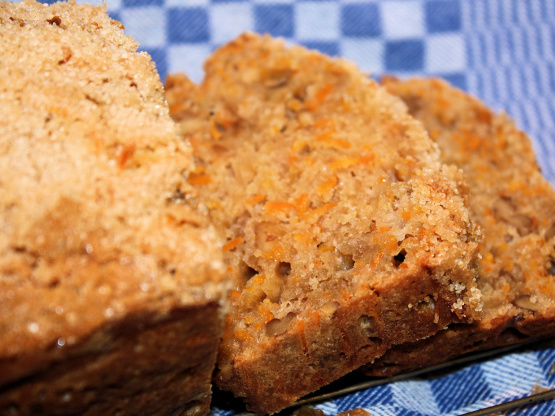 I make this cake for my daughter who has a wheat intolerance. It's a beautiful moist cake and it's delicious by itself or iced with lemon cream cheese icing. You can replace the spelt flour for normal flour.

This was a great recipe. I substituted the canola oil for 3/4 cup coconut oil the sugar for 3/4 cup xylitol. I added 1 tsp vanilla and 1/2 cup pureed frozen pineapple and walnuts. I also added 1 tsp of baking soda rather than the 1/8 and made a birthday cake with mine and spread with cream cheese frosting and decorated with pecans. I would double the recipe to make a large sheet cake as my cake was a little flat dew to small batch, but delicious!!
Whisk oil eggs and 3/4 cup of raw sugar in a large bowl.
Stir in sifted combined dry ingredients carrot and nuts.
Spoon batter into a greased lined tin (i use a loaf tin).
Sprinkle with remaining raw sugar.
Bake in preheated oven at 170°C for 40-45 minutes or until cooked.
Cool for 5 minutes in the pan before removing.