Super-Moist Cake Mix Lemon Pound Cake
grosmick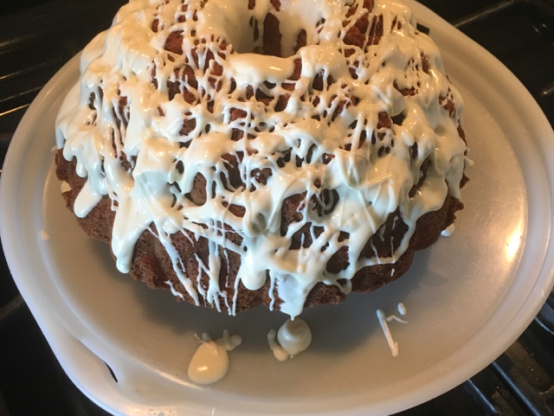 I came upon this recipe with the help of Duncan Hines, as this was on the side of the box. I changed it up some and it's to die for! If you like lemon, you'll love this pound cake!

I have been making this cake for a long time and it's always a hit with everyone. It is super moist with lots of flavor. We like it with fresh or frozen blueberries and freshly grated lemon rind which only enhances the flavor of this cake greatly. You really don't need to frost the cake, it's perfect without it, you can sprinkle with some confectioners' sugar. This cake is a must try.
Preheat oven to 350°F and grease bundt pan.
Combine cake mix, pudding mix, eggs, water and oil in large bowl. Beat at medium speed with electric mixer for 2 minutes. Pour into pan.
Bake at 350°F for 50 to 60 minutes or until toothpick inserted in center comes out clean. (I cook mine for 50 mins.) Cool in pan 25 minutes. Invert onto heat resistant serving plate. Cool completely.
For glaze, place frosting in microwave-safe bowl. Microwave on high power 10 to 15 seconds. Stir until smooth. Repeat if necessary. Do not over heat. Add Lemon extract one teaspoon at a time until desired flavor is reached. Stir well. (I use 2 teaspoons for a moderate lemon taste. Add more according to preference.) Drizzle over cake.