Super Good Cheese, Herb, and Garlic Bread
lets.eat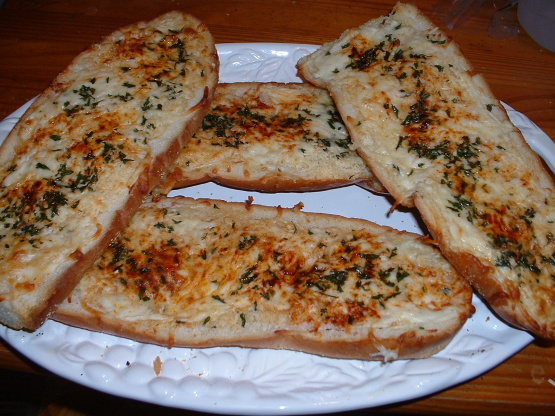 THis is something that I came up with one evening whenI was wanting a garlic cheese bread. My DS didnt really like the garlic taste, but it satisfied everyone else. I guess he is nothing like his mom. :)
Cut bread length wise in the middle.
In dish that butter was melted in, add the minced garlic to it, and stir to incorporate it evenly in the butter, then spread it evenly on the slices of bread -- making sure to do a little at a time to make sure it doesnt all soak up in one spot.
Mix the 2 cheeses together, and then use half of the mixture on each half loaf.
Put 1 tsp parsley on each half, and 1/4 tsp paprika on as well.
Bake at 425 for 10-15 minutes, or until crispy, and then broil under high heat for 2 minutes, or until bubbly and brown.