Super Fast and Easy Pizza Dough/ Crust
pesachz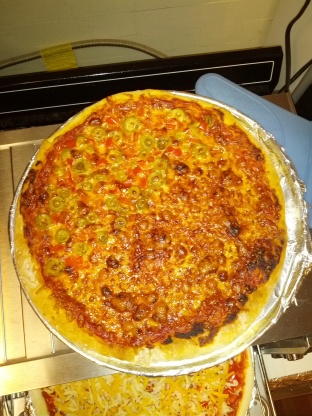 A recipe from Fleischmann's. Always good. You can substitute 1 cup of whole wheat flour for one cup of the white flour. You can add in some parmesan cheese if you'd like. Or, you can replace 1/2 cup of cornmeal for 1/2 cup of the flour. Have fun experimenting.

I've searched for years for a pizza crust that the whole family liked and was quick and easy to work with...I'm looking no further! :) This is definitely a PERFECT recipe! :) Thanks so much!!!! I also used it for bread sticks...awesome! :)
In a large bowl, combine 2 cups flour, yeast and salt. Add any other spices/herbs that you like.
Stir in the very warm water and oil. Mix well.
Add enough of the remaining flour to make a soft dough.
Knead on a lightly floured surface until smooth and elastic, about 5 minutes. Cover and let rise about 10 minutes.
Lightly oil one 14" or two 12" round pizza pans. Sprinkle with cornmeal.
Form dough into smooth ball(s). Roll dough to fit the pan(s).
Top with your favorite sauce and toppings.
Bake at 400F for 20 to 30 minutes or until done.