luvcookn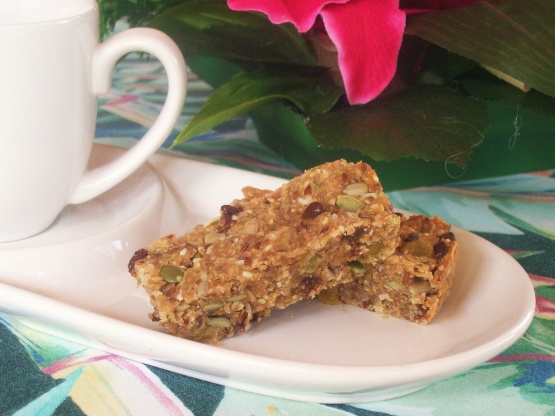 This recipe was inspired by the Super Energy Bars made by the coffee roastery down the street - they're my absolute favorite for a work-day pick me up! This is the 2nd version... it's a recipe in progress. The original used oatmeal instead of flour and no applesauce - it was tasty, but more like granola than bars. I'll keep adjusting and updating the recipe!

I was looking for something to take to school and work. My teen-angers & I really like these, they really hit the mark! I switched sesame seeds for sliced almonds, used corn syrup as I didn't have honey, and added sliced dried apricots instead of raisins (this time). These will become a staple in my house! Thank you :)
Preheat oven to 350.
Mix all dry ingredients together.
Add peanut butter, honey, and vanilla - mix well. (I used my mixer - it's pretty dense).
Grease a 13x9 baking pan - spread mixture into pan (should be about an inch thick).
Bake for 15-20 minutes.
Cool and cut into squares. I'm going to refrigerate them (in the hopes they will hold together a little better).
Enjoy -- yummy & healthy!