Super Easy Working Mom's Manicotti
MsSally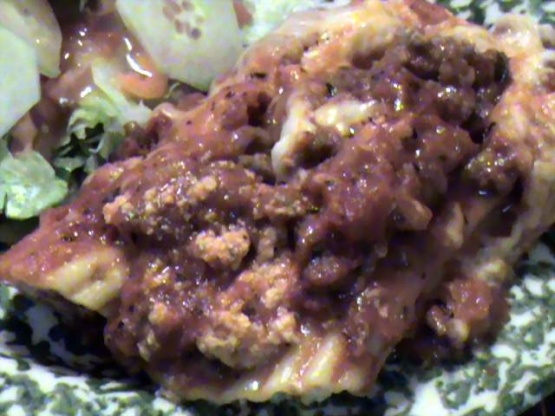 A twist on the super easy recipe my closest girlfriend Jules35 and I use from the back of the AMERICAN BEAUTY PASTA (THE ONLY ONE THAT SHOWS A RECIPE THAT YOU DON'T HAVE TO BOIL THE PASTA FIRST!! Sometimes we make it with sausage and mushrooms, sometimes veggie style-either way is great! Their make ahead tip is below as well! We have made this with a single can of sauce (large) but if you want it really saucy, you may want to adjust the recipe later to suit your tastes. ;) I topped with a 4 cheese blend that had cheddar in it for the picture. Up to you!!

Super Easy and Everyone Loved It!!! I scaled the recipe to 3 servings (in half). I used 8 shells and 1 jar of Classico Traditional Basil sauce with 1/2 c of water. I totally spaced the egg so I did not use the egg and it was fine... The filling stayed inside and the cheese melted perfectly. I added the sausage/mushroom mixture to the spaghetti sauce, hope that was right. Thanks Mommy Diva!
8

ounces manicotti, uncooked about 14 pieces

26

ounces spaghetti sauce, approx. 3 cups

1

cup water

15

ounces ricotta cheese, approx. 2 cups

8

ounces mozzarella cheese, shredded approx. 2 cups
1⁄4 cup parmesan cheese, grated (we prefer the three cheese blend of asiagio,parm and romano)

1

egg

2

tablespoons parsley, chopped fresh
1⁄2 teaspoon salt
1⁄4 teaspoon ground black pepper

1

lb Italian sausage (can sub assorted veggies for sausage if desired such as peppers, zucchini, aubergine, etc)

1

(7 ounce) can mushrooms, sliced and drained
garlic, to taste

1

teaspoon italian seasoning
salt, to taste
pepper, to taste
Heat oven to 400°F.
Cook thoroughly sausage and mushrooms (or saute assorted veggies if making veggie version) with garlic,italian seasoning and salt and pepper to taste.
In saucepan, combine spaghetti sauce and water; heat to boiling, stirring frequently.
Reduce heat; keep warm.
In bowl, stir together cheeses, parsley, egg, salt and pepper; spoon into uncooked pasta tubes.
Pour 1 cup sauce on bottom of 13x9x2-inch glass baking dish; arrange filled pasta in single layer over sauce.
Pour remaining sauce over pasta; sprinkle with cheese if desired and cover with foil.
Bake 40 minutes or until hot and bubbly. Remove foil; bake 5 minutes longer.
Serve -pasta and filling will be HOT!
Enjoy!
To make ahead and freeze:.
MAKE AHEAD DIRECTIONS: Prepare as directed above; cool 30 minutes.
Cover tightly with plastic wrap; then foil.
Freeze up to 2 months.
Thaw in refrigerator overnight (casserole is too dry if heated from frozen state)May want to add a small amount of additional moisture- water or sauce.
Bake at 350°F 60 minutes or until hot and bubbly.