megs_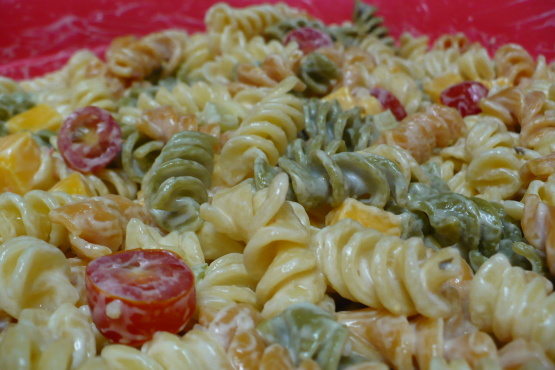 This is a delicious, summery pasta salad that's incredibly easy to make! I often get requests for it at family gatherings. I usually use fat-free Italian dressing and light mayonnaise and it still tastes fantastic. Feel free to throw in some peppers and other veggies too!

Very easy to make and easy to modify and add to it. Too simple in taste for me as is, so I added cucumbers, Gouda cheese, and green peppers because that's what I had on hand. I think I will add onions next time and perhaps some other veggies. It definitely lends itself to be a versatile recipe and can be different each time you make it.
1⁄2 lb uncooked pasta, of your choice

1

stalk celery, diced

1

medium tomatoes, chopped
1⁄2-3⁄4 cup Italian salad dressing (to taste)
1⁄2 cup mayonnaise
salt and pepper
Bring a large pot of lightly salted water to a boil.
Add pasta and cook for 8 to 10 minutes or until al dente.
Drain and pour pasta into a large dish.
Stir in the celery and tomatoes.
In a separate bowl, whisk together the salad dressing and mayonnaise, then pour this mixture over the salad and toss again, to coat.
Cover and chill until ready to serve.
Enjoy!