Maiden77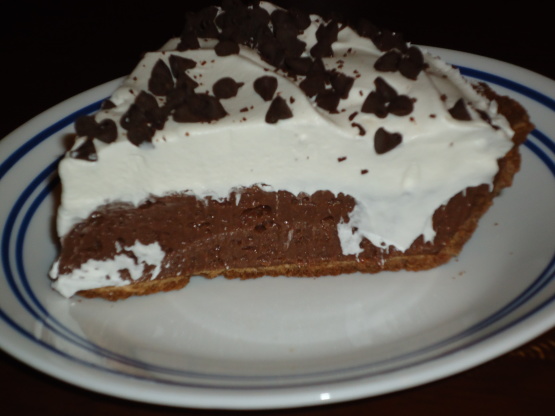 Prewarn you that this pie turns out crazy sweet, thick, and rich. It can easily be adjusted and personallized anyway you like. I made a chocolate cheese-cake like cream pie with whipped topping (top sprinkled with mini chocolate chips) but I can think of hundreds of different pies I can make with varying the flavors and additions. It is so simple, the ingredients are cheap, and it can be done and ready in a snap. Great for a quick desert or sweet treat. Let me know what ideas you come up with!

Top Review by Kimily
My teenage daughter made this for "dad's" birthday. We substituted heath bar pieces on top instead of chocolate chips. Although seemed good, the texture of the pie was more like "marshmallow" consistancy. It had a great taste, but the texture was very odd to get over. It was not creamy. It was very thick and sticky when all mixed together and put into pie plate. And it is VERY sweet. Also we tried to use a readywhip product for the whip cream...that started to "fall" while setting in the fridge. On the rating... I think the taste and ease of making it should be a rating 4, but because of the texture I had to adjust it to a 3. I don't think I would make it again.
9

inches chocolate crumb crusts (premade or store bought is fine,I used chocolate but any flavor is fine. you can also make your own)

1

(8 ounce) package cream cheese, softened

1

(14 ounce) can sweetened condensed milk

1

(3 1/2 ounce) packageinstant pudding (fI used chocolate but any flavor you choose works) or 1 (3 1/2 ounce) package pie filling (fI used chocolate but any flavor you choose works)
whipped topping (such as cool whip)
Beat the Cream Cheese and the milk together until smooth, creamy, and well combined. I used a hand mixer for ease and speedy mixing.
When nice and smooth stir or mix in the pudding mix/pie filling.The filling will set up fast so don't take a lot of time combining the ingredients.
Pour into the pie crust and even out the top. Place in the refridgerator for 15 minutes to set up.
Top off the pie with desired amount of whipped topping. Add toppings if using any. Return to the refridgerator until ready to serve.