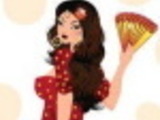 Really quick, easy dish to go with your Mexican dinner night!!!
Make and share this Super Easy Mexican Rice recipe from Food.com.
Directions
In a large skillet, heat 1 tablespoon oil and saute onions and garlic.
Add the chicken bouillon to the pan and crush the cubes.
Add 1 tablespoon oil and the rice and fry the rice until the rice turns slightly brown.
Add the salt, water and tomato paste and mix well.
Cover the pan and simmer 25 minutes.
Mix rice thoroughly and serve.
ENJOY!