Super Easy Macaroni Salad
Parsley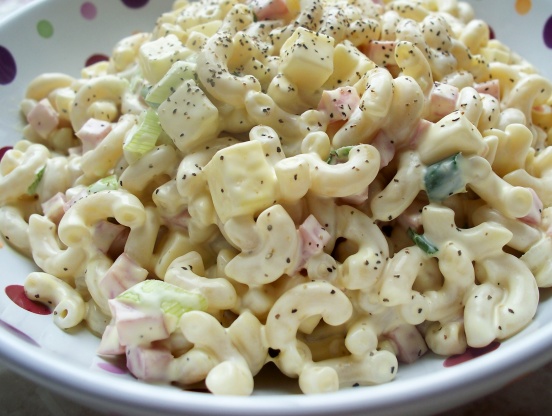 This is great for someone with little time and money. I couldn't find anything this simple when I was looking so I thought I would add it. You can add or substitute many different things. My sister puts chopped sweet pickles. My grandma would put cucumber and canned crab meat and shrimp instead of ham.

This is a great summer salad! I did add some extras to it. I doubled the macaroni, added colby-jack crumbles, very small diced ham, chopped egg,chopped sweet pickles,mayonnaise and a touch of mustard. I didn't measure, just eyeballed it. Tastes great, makes a huge amount and everyone was inhaling it! Thanks for a great recipe.
2

cups macaroni (I use whatever is in my cupboard)
1⁄2 cup cubed cheese (I prefer cheddar or co-jack)
1⁄2 cup cubed ham
1⁄2 cup Miracle Whip (can sub mayo your choice)

1

tablespoon mustard
Cook,drain and rinse macaroni and put in fridge while you dice up cheese and ham.
Mix together cold macaroni, cheese, and ham in a bowl.
In a separate bowl mix miracle whip and mustard. (If it is too tangy my mom would put a little sugar in it about a tsp.).
Mix it all together and chill or serve immediately.