Super-Easy Fried Ham Steak With Cranberry Mustard Sauce
Bergy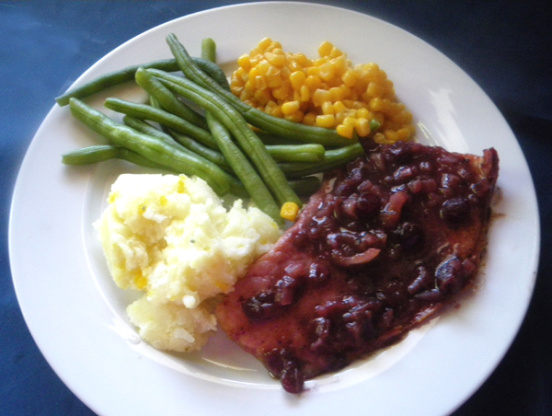 This makes a delicious and super-quick meal that can be made in less than 10 minutes! I just purchase the single vacuum-packed sliced ham steaks for this. This recipe can easily be doubled --- please make certain to use a good-quality mustard powder as it will make a different to the recipe.

This turned out fantastic! I admit to being a little skeptical, but I'm so glad I tried this recipe. I had leftover cranberry sauce from last night's Swedish Meatballs, and this was a perfect way to use that up. I did as another reviewer suggested and put my ham steaks in the oven after searing them while I made the sauce. I had no mustard powder, so I used prepared Dijon (my favorite!) and was a little loose with my measurements. My ham gave off enough juices during the searing process that I felt no need to add water. Two thumbs up for flavor, I'll make this often; I'm so excited to have another excuse to make cranberry sauce, which in my opinion should not be regulated only to Thanksgiving! ;) Thanks Kitten. :)
Sprinkle the ham steaks with black pepper.
Melt about 2 tablespoons butter in a medium skillet over medium heat.
Add in ham and saute until brown on the edges (about 2 minutes per side).
Transfer to plates and cover with foil to keep warm.
Reduce heat slightly and add in remaining 2 tablespoon butter to the skillet.
Add in shallots and mustard powder; stir until the shallots begin to soften (about 2-3 minutes).
Add/mix in the whole-berry cranberry sauce, water and red wine vinegar; stir with a wooden spoon until sauce thickens (about 1 minute).
Season the sauce with salt and pepper to taste.
Spoon the sauce over ham and serve.