Super Easy, Fat-Free Grilled Corn-In-The-Husk
gailanng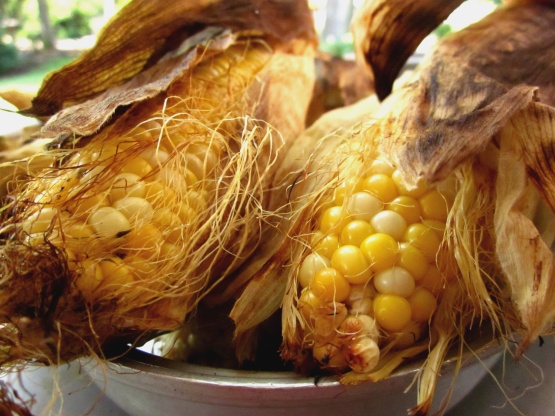 I was looking for a recipe that did not require soaking the husks prior to grilling. This is a variation on the method I found on Simply Recipes website. Husks are placed directly on a screaming hot grill without the need to soak beforehand in water. The husk essentially steams the corn in its own moisture, resulting in crisp, smoky kernels with a natural corn flavor. This method will work best if you cook the corn as soon as possible after buying, preferably without refrigerating. If the corn has been refrigerated, allow it to come to room temperature before grilling. For those who prefer spicy flavors, add 1/4 tsp. chili powder and cayenne to the salt and pepper mixture before rubbing.

I'm so excited you posted this recipe! I was trying another method of grilled corn using foil but ran out of foil and still wanted to grill corn. This was fantastic! I really loved how simple this was and how easily the silks pulled off from the corn after finishing on the grill. The corn had its own background flavoring that a bit of butter and some pepper was all I needed to scarf down two ears of corn lickety split. Made for All You Can Cook Buffet in Cooking Games with Friends Forum.
Prepare grill with direct, high heat, about 550°F.
Remove just the visible silks from the tips of the corn. If the husk has several thick layers, peel a few layers off, leaving a few layers of husk covering the corn.
Place the corn husks on the hot grill. Cover.
Turn the corn occasionally, until the husks are charred on all sides, about 15 to 20 minutes. (Approximately 5 minutes on each side.).
Remove corn from the grill. Let sit for 5 minutes.
Using a hand towel, remove the silks and charred husks from the corn.
Cover stem of corn with a piece of aluminum foil, making a handle for the corn.
Squeeze lemon lemon wedge over the hot corn.
Mix salt and pepper in a small bowl. Dip lemon wedge into spice mix and rub into corn.
Serve immediately.