Super Easy: Creamy Cucumber Salad
Nasseh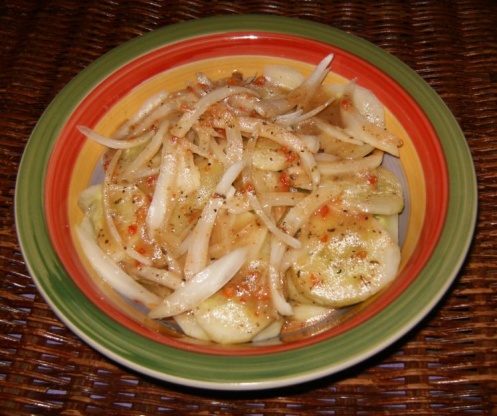 This is actually the creamy version of my other recipe Super Easy: Cucumber Salad. My DH actually prefers the creamy version more, but it totally depends on what type of Italian dressing I have on hand as to which one I make.

This was a really good salad. We ate it all up!!! Letting the flavours merry over night is a wonderful tip... really enhanced the flavour. thanks acadia!!! made for ramadan tag 2009
Peel and slice cucumbers and onions very thinly (I use a mandolin for this).
Place cucumbers, onion slices and salad dressing in a container that has a tight fitting lid.
Place the lid on and give the container a couple of shakes which will coat the cucumbers, chives and onions with the dressing and toss the salad.
Place container in the refrigerator for 24 hours. Enjoy!