Super Easy Chocolate Bar Cookies
truebrit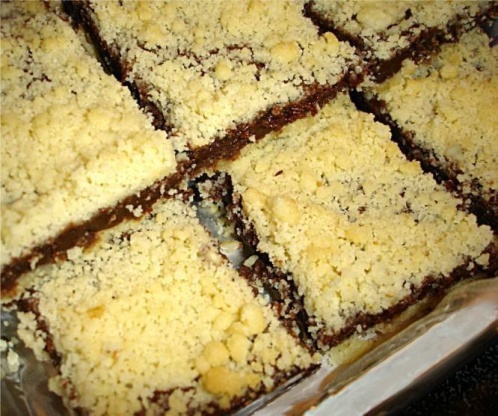 My 9 yr old said these are VERY GOOOOOD!

Top Review by Kasha
This is one of those wonderful recipes where you get to make something out of almost nothing. There is nothing special in here, you don't even have to use the nuts although I did. You just use ordinary ingredients you probably already have and get something completley different that everyone will like. I didn't even use a can of sweetened condensed milk, I used a copycat recipe for it from this website, worked great. My olny comment is that it is a very gentle chocolate taste. I might try darker chocolate in the future to give it a bit more oomph. The filling is very much like fudge. The whole recipe cost only about 3$ to make I would say, a bargain for what you get out of it.
Preheat oven 350°.
Crust: Beat butter in mixing bowl 30 seconds Add sugar and salt, beat until combined scraping sides of bowl occasionally.
Beat in flour, low speed until combined.
Press 2/3 of mixture into an ungreased 9 x 13 pan.
Filling: Combine sweetened condensed milk and chocolate in medium sauce pan, stir over low heat until chocolate is melted and mixture is smooth.
Remove from heat. Stir in nuts and vanilla.
Spread hot mixture over crust.
Sprinkle remaining crust mixture over chocolate mixture.
Bake 35 minutes or until golden.
Cool in pan on rack, cut into bars.