Super Easy Chinese Style Stir Fried Mushrooms
Parsley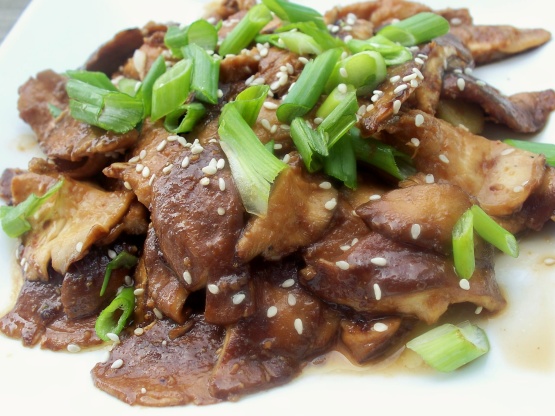 Recipe from Alvii. Add different veggies to this if you like. I like to add a little bit of hot pepper flakes to give this some bite.

needed some tasty mushrooms to lift a sad chicken stir fry :) these were great! I did add a half cup of water and let them cook a little longer, as I wanted them softer. Used whole baby button mushrooms.
Heat oil in a large skillet or stir-fry pan. Add ginger, and garlic; cook, stirring.
constantly, just until fragrant.
Toss in sliced mushrooms and cook several minutes or until mushrooms soften and start to brown.
Drizzle in the soy sauce and seasme oil, stirring until most of liquid evaporates off.
Remove from heat and garnish with sliced green onions and toasted sesame seeds.