Super Easy Cheesy Enchiladas
lazyme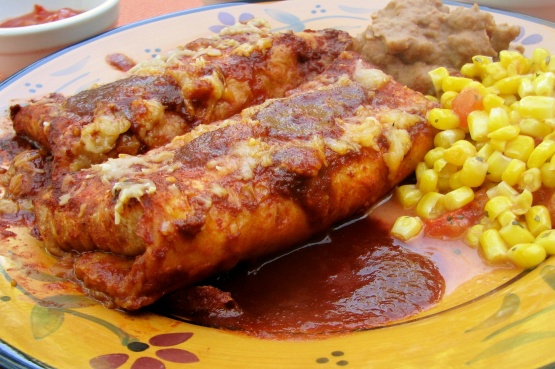 When you don't have a lot of time or money. I made this for my family for around a dollar per serving. If the only Mexican food your kids will touch is cheese quesadillas (cheese melted on a tortilla), give this a try as a "step up". My picky picky DD was okay with cheese enchiladas when we told her it was cheese in a tortilla with a sauce on top. Now she has been known to eat spinach enchiladas and chicken enchiladas! :) She gave this recipe two thumbs up. :)

This recipe was wonderful. The only thing my tortillias would open up when I put them in the pan,so I put toothpicks in them. Put only 1 1/2 tsp garlic powder and minced onions. Was just the right amount. (assumed that was 1 to 2 teaspoons not 1/2). Also put more cheese on top and only baked for 25 minutes.
2

cups shredded cheese (whatever floats your boat, I used a preshredded Colby or Monterey Jack blend)

3

ounces cream cheese, softened

1 -2

teaspoon garlic powder

1 -2

teaspoon instant minced onion (or a smidge of grated fresh)

15

ounces enchilada sauce
1⁄2 cup more shredded cheese
First, you want to mix the first four ingredients together until they are really well combined. Seriously, you will not see any little shreds of cheese and it will have the texture of stiff play dough (this is important).
Preheat your oven to 350 and grab a pan. I used an 11x7 inch oval baking dish, but you can also use an 8inch square.
Pour about 1/4 of the enchilada sauce into the bottom of the pan and swirl the pan until the bottom is coated.
Reach in with your clean hands and grab about 2 tablespoons of cheese mixture in your hands and shape into a log. Roll a tortilla around this log and place in the pan. Repeat for the rest of the cheese and tortillas.
Pour the rest of the sauce on top, spreading it to cover.
Sprinkle the last 1/2 cup of cheese on top, and place in the oven. Bake 20-30 minutes or until hot and bubbly.
For OAMC: Freeze before cooking, thaw in refrigerator and bake according to directions.