Super Easy: Baking Sausage

My daughter taught me to cook bacon with no splatter or mess on the stove top, by baking it instead. So I decided to try baking breakfast link sausage the same way. I use a 10"x15" jelly roll pan or the bottom of a broiling pan. I buy parchment paper for baking in rolls in bulk online. I bake 3 pounds of maple breakfast link sausage at a time and freeze it in individual servings.
453.59 g breakfast sausage links
453.59 g breakfast sausage links
453.59 g breakfast sausage links
Directions
Preheat oven to 400 degrees F.
Line a 10"x15" jelly roll pan with parchment paper for cooking/baking.
Place one package of sausage links in the jelly roll pan flat on top of the parchment paper in a single layer.
When the oven comes up to temperature, place the pan with the sausage on the middle shelf of the oven and bake for 15 minutes.
When the time goes off remove the sausage from the oven and rotate them to the other side.
Place them back in the oven for another 10 minutes or until sausage is thoroughly cooked through.
Remove finished sausage to paper towels or brown paper and blot excess grease off of the links with paper towels.
Repeat process until entire 3-pounds of sausage is cooked.
Freeze in portion sized bags.
Afterward, clean-up is a breeze. Wait for grease to cool and then throw away parchment paper.
Most Helpful
I always do my sausages this way....less messy, and no need to stand over a hot stove turning the sausages and getting spit on with fat. Before baking, I poke each sausage several times with a knife tip, to help them release more fat without bursting as they bake.
Love this approach! I've used it for thick links, thin links, and I even tried it with turkey sausage patties this morning. With patties, you'll want to use aluminum foil for quicker clean-up, but the parchment paper works perfect with links. I have a tiny kitchen (an RV kitchen) and this really helps manage space. Plus the sausages come out better than on the stove. Even better, this works great in my convection microwave without changing the recipe. I bake all my breakfast meats now: sausage and bacon (though not Canadian bacon, dries it out too much).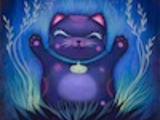 This worked beautifully! And you're right, it was SUPER EASY! I will be cooking sausage this way from now on. Thanks for posting and saving me time and mess.