Super-Crunchy "fried" Chicken
loof751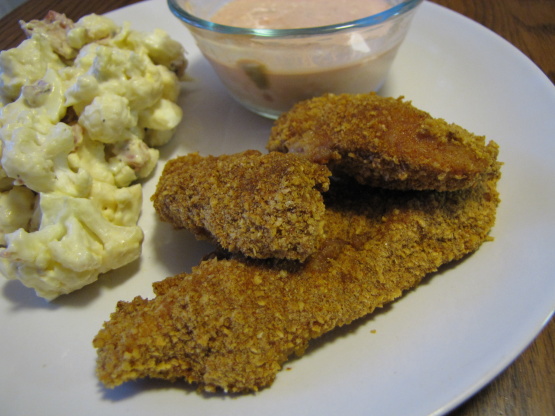 Not fried but darn close to it ;)
In medium bowl, whisk buttermilk, egg whites and hot sauce until blended; add chicken pieces and turn to coat.
Let marinate at room temperature.
Preheat oven to 400 degrees Fahrenheit.
Meanwhile, line a baking sheet with foil and coat with cooking spray.
Combine cornflake crumbs, paprika, thyme, garlic powder and salt in a shallow dish.
Lift chicken pieces, one at a time, from buttermilk mixture and coat in seasoned crumb mixture.
Place on prepared baking sheet.
Lightly spray crumb coating with cooking spray.
Bake 16 to 18 minutes, until browned on the outside, chicken is no longer pink in it's thickest part, and crumb coating is crusty.