Geema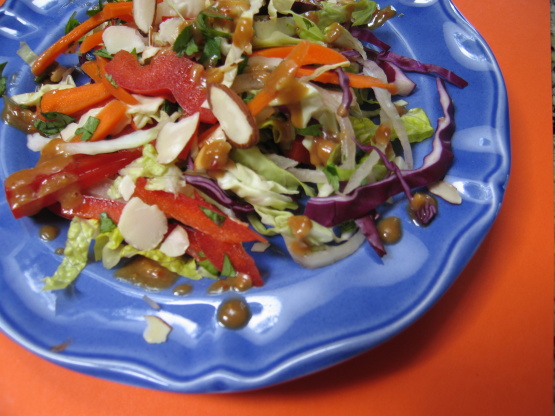 One of my DH's favorite salads. If you eat meat, cooked chicken, fish or pork would be really a great addition for a main course salad.

Have made this several times now and everyone always asks for the recipe! You can add or leave things out as you have them or desire; i.e. I've made with and without Jicama (it's a pain to peel & while I like the flavor by itself it kind of gets lost in the salad anyway), green & red peppers (DH doesn't like), onions, celery (not in the recipe but I added it when I didn't use peppers), extra carrots, tomatoes, avocado, etc. I also use about equal amounts green and purple cabbage. If you like spicy I highly recommend either extra jalapenos or leave some of the seeds in (I thought it was way too mild w/ just the two seeded jalapenos). I also like it better with almost double the garlic. And I like red pepper flakes on it.

Dressing: I've substituted chunky peanut butter, almond butter and tahini (my favorite) for peanut butter. I've used stevia instead of brown sugar. I've used 3 TB sesame oil and 3 Grapeseed; I've used all Olive oil; but my favorite is all coconut oil (you have to melt it in the microwave first if solid). I've used Bragg's Amino or Tamari in lieu of regular soy sauce (not only gluten free but more flavor, less 'salty').
Whisk first 7 ingredients in a snall bowl to blend.
Combine all remaining ingredients in a large bowl.
Add dressing, then toss to coat well.
Dressing may be made one day in advance, but let sit at room temperature for 30 minutes before mixing with freshly prepared salad.
Sprinkle with chopped peanuts as garnish if desired.