Prep 10 mins
Cook 30 mins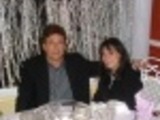 This is an oldie but goodie that I used to serve on Super Bowl Sunday during the 80's! Although, in order to post this, I had to be specific with ingredient amounts, it really is up to your personal taste and is more a template to follow to create your ideal wedge.
Directions
Slice a long loaf of Italian bread horizontally. Cut sides of the bread are sprinkled very lightly with good olive oil.
Then begin layering the deli foods of your choice: ham, Genoa salami, pepperoni for slicing, mozzarella cheese, roasted peppers, red onion rings, sprinkling every other layer with olive oil and oregano.
When layering is complete, the loaf is wrapped tightly in heavy-duty aluminum foil. (This much can be done ahead of time.).
Bake in a preheated 350 degree oven until hot, about 30 minutes. Slice into individual servings and enjoy!
Reviews
Most Helpful
This is one delicious sandwich and the sky is the limit as far as ingredients go. I used spicy ham, salami, pepperoni, provolone cheese, roasted peppers, red onion, and I added a bit of olive tapenade along with the oregano. I missed getting to make this sandwich for the Super Bowl, but its great any time of the year. Made for the For Your Consideration tag game.

I must admit..when I told DH what our Saturday night treat was, and he saw me buying the meats from the deli, he actually turned his nose up at it.....BUT, I reminded him of his favourite food show ( Man V Food) and some of the yummy sandwiches that Adam had sampled and he relented ( although only on the condition that I ditched the roasted peppers).
Well...How wrong can a man be...and how much can he compliment such a simple but devilishly delicious concoction?!!!
We used Italian Parmesan and Black Pepper rolls from our local bakery (they are pretty big..he did a whole one, me just a half!!). DH's contained roast beef, roast chicken and pepperoni-mine ham,roast chicken and pepperoni. We used Aussie Jack cheese, red onion and plenty of olive oil and oregano.
Well...as I said...how much can one man compliment it....PLENTY!! He absolutely LOVED it...and is still talking about it now...!!
JackieOhNo..you are re-named JackieOhYes from us-thank you! Made for PRMR.

Wow this was a great sandwich! I used turkey pastrami, sandwich pepperoni, spiced ham, and picante provolone. I only used about 1/4 cup of oil. Thanks so much for sharing. I definitely look forward to making this again.