Super Blue Green Smoothie

This was inspired by Sneaky Cinnamon Smoothie (thanks Mandy!). An energizing brekky in which you'll never taste the broccoli (what broccoli??!!).
Directions
Steam the broccoli till bright green and softened, in a small pot with about 1/4 cup water.
IF you have an immersion blender, you can then simply toss the other ingredients in the pot, blend in there, and ta-da, your smoothie's made! Or you can transfer the broccoli and the rest to a blender or food processor.
Be sure to blend very well, especially if trying to hide veggies from children- and in that case, probably a good idea to use a sweeter yogurt or add the honey. However, it's entirely optional.
Enjoy!
Note: For the soy yogurt, I use homemade tofu sour cream- just soft tofu blended with lemon juice to taste and a pinch of salt.
Reviews
Most Helpful
I must admit, I was a bit hesitant about the broccoli, but it's true- you don't even know it's there. I steamed the broccoli in the microwave and then mixed everything in the blender, using Greek yogurt and the optional honey. Very delicious (and nutritious). Thanks for posting this. Made for Please Review My Recipe Tag Game.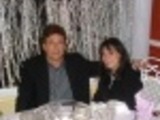 This is really good! My husband says this is definitely a keeper. Wonderful combination of flavors and you cannot detect the secret ingredient. The banana and blueberries provided just the right amount of sweetness so I did not use the optional sweeteners. Thank you for posting. Made for PRMR.

Mmmmmm, very good smoothie. And you are quite right, "what broccoli?" I couldn't taste either the blueberries, OJ, or banana. It all added up to it's own unique taste! I used French vanilla yogurt and no added sweetener. Thnx for posting White Rose Child. Made for Comfort Cafe Summer 2009.