Super Awesome Baked Beans
KPD123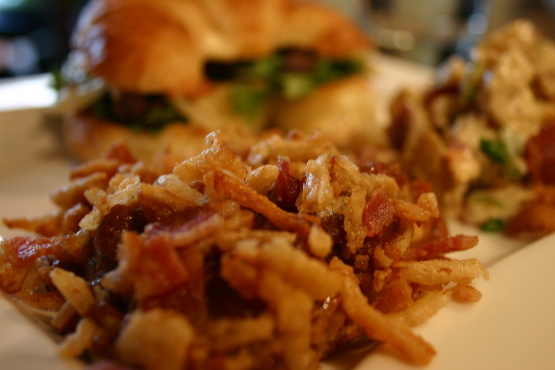 Everywhere I have taken this dish, it's all people talk about! It's the only way I do baked beans anymore! When it's just DH and I, I use only 1 can and 2 quart dish. I hope the measurements are right...I always just eyeball everything! I don't like my baked beans as sweet as most people, so feel free to add more brown sugar to taste! Enjoy!

As the stars say, WE LIKED THESE baked beans, but the bacon overpowered everything else. Hubby agreed, and he's a bacon lover. The jalapeno and french fried onions were a very nice touch though. Thanks for posting KPD.
In a bowl, combine HALF of the chopped BACON and the french fried onions. Set aside.
In a greased 13x9 casserole dish, combine remaining ingredients and mix well. (Taste mixture -- you might want more brown sugar or salt/pepper).
Bake uncovered at 350 degrees for 20 minutes.
Sprinkle french fried onion and bacon mixture all over beans. Return to oven and bake 5-10 minutes until golden brown.