Suomalaisruisleipä (Finnish Rye Bread)
PanNan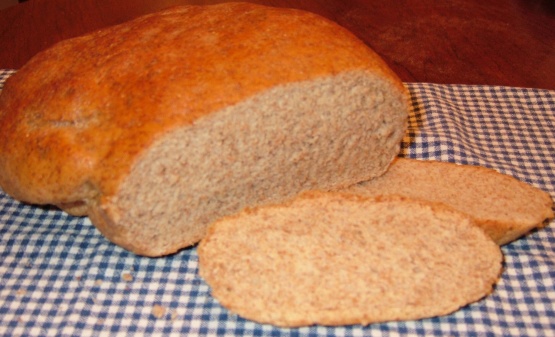 I've always loved rye bread, and this is a good one. Especially spread with a bit of cream cheese. It's also good served with Kesäkeitto (Finnish Summer Vegetable Soup). Prep time also includes time needed for the dough to rest. Posted for Zaar World Tour 05

This bread is the best. My DH doesnt like store bought finnish bread,they put too much sugar in theirs. I mixed 3 tsp.instant potatoes in the water till dissolved. The bread had great flavor and texture. Went wonderful with the #91735 I made for supper.I will be making this bread often...
2 1⁄4 teaspoons active dry yeast (equilavents listed at bottom of recipe)
1 1⁄4 cups warm potato water (105 to 115 degrees F or)

1

tablespoon packed brown sugar

1

tablespoon vegetable oil
1 1⁄2 teaspoons salt
1 1⁄4 cups medium rye flour
1 1⁄2-2 cups all-purpose flour
butter, softened
Dissolve yeast in warm water in large bowl. Stir in brown sugar, oil, salt and 1 cup of the rye flour.
Beat until smooth.
Stir in enough all-purpose flour to make the dough easy to handle.
Turn dough onto surface that has been sprinkled with the remaining rye flour. Cover; let rest 10 to 15 minutes.
Knead until smooth and elastic, about 5 minutes.
Place in greased bowl; turn greased side up. Cover; let rise in warm place until double, about 1 hour.
Dough is ready if indentation remains when touched.
Punch down dough; shape into a round, slightly flat loaf.
Place in greased 9 x 1 1/2-inch round pan. Cover; let rise until double, about 1 hour.
Preheat oven to 375 degrees F. Bake until loaf sounds hollow when tapped, 40 to 50 minutes. Immediately remove from pan. Brush top of loaf with butter; cool on wire rack.
Note: Yeast Equivalents are One package = 2 1/4 teaspoons = 1/4 ounce.