diner524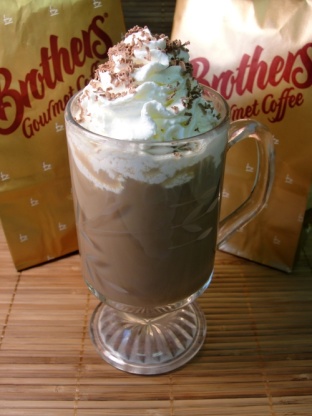 When I lived in the city, my favourite coffee house, use to sell this coffee, it was awesome. The beans are a little difficult to find, but well worth the effort. For a great cup of fresh brewed sipping coffee, it's best if the beans are ground, just prior to making the coffee. This recipe will make 1 lb Sunshine coffee blend, using Mocha Java & Ethiopia Limu beans. Make coffee to your preference. Mocha Java - Exotic with a slightly sweet flavor, smooth, clean, two dimensional, dry chocolate flavor, mild acidity, full body and rich aroma. Ethiopia Limu - Vibrant, balanced cup with sharp acidity, medium body, rich flavour and winy aftertaste.

YUMMY! I am the coffee drinker in the house so I can play with the coffees any which way. I enjoued this coffee this morning. I could not find your specific brand but did come close with brands from the city's grocery store. I did buy whole bean so I could grind fresh each time. I made 4 cups LOL. I also used 1/2 and 1/2 creamer instead of milk and Truvia for the sugar. Lovely aroma and a great cuppa to wake up with. Thanl you. Made for Aus/NZ Swap #38
Mix the two types of coffee beans together and store in a container with a tight fitting lid.
To ensure a great cup of coffee always use freshly ground beans and cold water.
Prepare coffee to your personal preference and enjoy.