loof751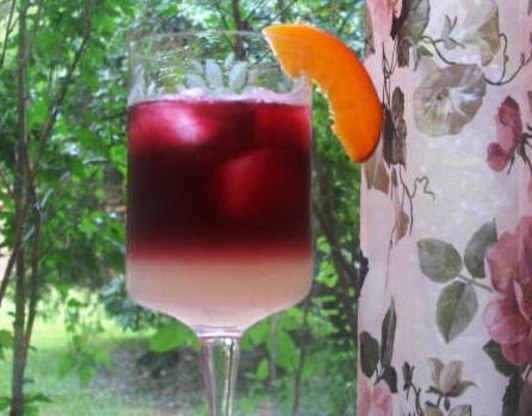 This drink is wonderful to serve to friends -- the red wine floats on top of the pale green limeade, making a beautiful two-tone presentation. The "cooking" time is actually the time for refrigerating the limeade mixture before making the cocktails.

Lovely tasty drink; liked the additon of the limeade. I didn't get the sangria to "float" on top of my limeade, tho. Poured down a spoon, but it went right into the limeade. Next time, I think I'll freeze the limeade layer and then pour in the sangria. Made for Aussie Recipe Tag5.
In a 1-quart glass measuring cup, combine lime peel, lime juice and sugar; add water to equal 4 cups. Stir to dissolve sugar. Cover and refrigerate at least 2 hours.
To serve, place ice cubes in six 16-ounce glasses. Add 2/3 cup of the lime juice mixture to each glass. Add 1/2 cup of wine to each glass, being sure to pour it gently along the side of the glass to keep the colors of the limeade and the wine separated. Thread a nectarine slice on regular or party skewers and add one skewer to each glass. Serve immediately.