Sunset Orzo With Spanish Shrimp
loof751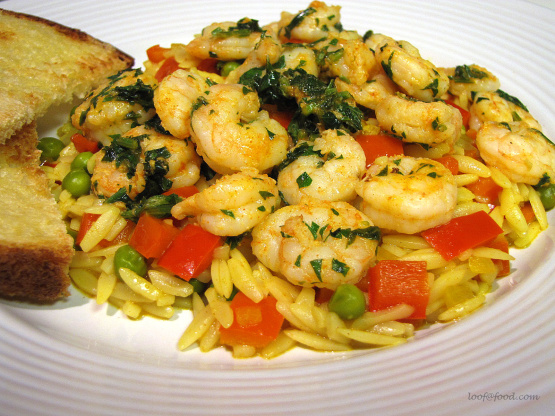 I love orzo pasta. This recipe is from Rachael Ray.

This is a great recipe and one I plan to make again soon! Living here on the Gulf Coast, we have fresh shrimp readily available and I love mixing them with the flavors of the chorizo and smoky paprika. This dish resembles a paella, but I really like the orzo better than rice. Thanks for a great recipe. Made for the Best of 2012 tag.
Bring a large pot of water to a boil, salt it, add the orzo and cook until just al dente. Drain and cover.
While the pasta is working, in a small saucepan, steep the saffron in the chicken broth over low heat.
In a medium skillet, heat 1 tablespoon of olive oil, 1 turn of the pan, over medium heat. Add the chorizo and cook until browned, 2 minutes. Add the onion, bell pepper, garlic and turmeric and cook for 5 minutes. Stir in the peas.
In another medium skillet, heat the remaining 2 tablespoons olive oil, 2 turns of the pan, over medium-high heat. Add the shrimp and cook until pink and firm, 2 to 3 minutes. Stir in the parsley, paprika and lemon juice; season with salt. Remove from the heat.
Pour the saffron broth over the chorizo and vegetables. Add the orzo and toss for 2 minutes. To serve, top the orzo with the shrimp.