Jostlori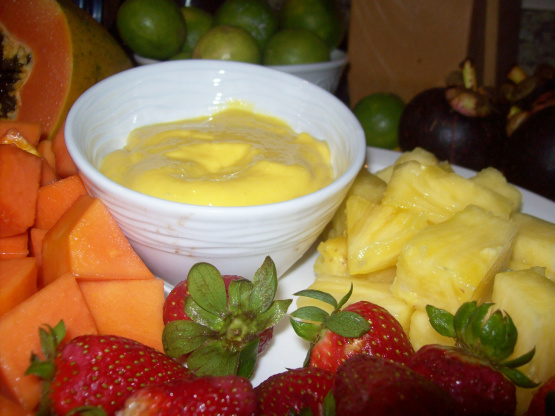 Variations of this cool, creamy dip are served on many of the Caribbean islands, where mangos are a way of life. It's perfect for dipping fresh fruits and can also be spooned over other fruits, or over pancakes or waffles.

All my guests seemed to enjoy the dip, as the fruit was gone in minutes. I personally didn't care for it as much, but it may have been more about the fruit that was used. It tasted pretty good on pineapple and mango slices, but I didn't much like it on strawberries or papaya. I'm wondering if it would be good over vanilla ice cream??? Hmmmmm....Made for team Gourmet Goddesses, ZWT9.
1

ripe mango, peeled and cut into chunks, seeds discarded
1 1⁄2 teaspoons firmly packed brown sugar
1⁄2 teaspoon lime juice
1⁄2 cup nonfat vanilla yogurt

1

dash nutmeg
Place mango chunks in a blender container with brown sugar and lime juice. Blend until smooth.
Spoon into a bowl.
Stir yogurt into mango puree, stitting until blended.
Chill thoroughly.
Just before serving, sprinkle very lightly with nutmeg.