Parsley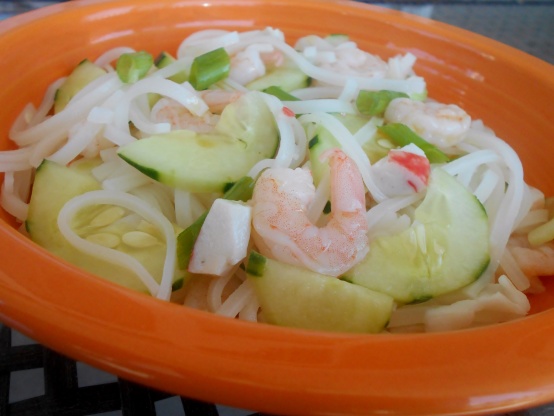 This light, refreshing salad is a great start to any Japanese meal. I enjoy this fresh salad as a starter to a sushi dinner or alone for a light lunch. This is also a basic recipe to prepare.

We loved this recipe, we have made it two times in three days. It's that delicious. I had to make a few adjustments to it to accomodate our pantry items. I used a mirin in place of the sake, because I don't buy it; left out the seafood because the kids don't eat it, and used somen noodles because they were in the house. This is a delightful, delectable recipe. Sweet, tangy and light. It's a perfect dish.
Mix all the marinade ingredients together and set aside.
Bring water to a boil and put in noodles, Stir noodles for 3-4 minutes until cooked . Drain the noodles in a colander and cool under running cold water, drain as much water off you can.
Mix cooked cooled noodles, green onions, cucumber, shrimp and crab meat in a bowl. Pour marinade over noodles. Mix well, cover and refrigerate allowing the flavors to combine (just an hour or two). Serve cold.