I make this for Dave at least once a month and he loves it. So simple and so good. Cook time does not include cooking the bacon.
Directions
Spray a non-stick skillet with Pam.
Pre-heat pan over medium heat until beads of water sizzles.
Add eggs, being careful not to break the yolk (see note below), cover and cook over medium heat for 3-5 minutes or to your liking (we like the yolk runny).
Toast bread and immediately add the slice of cheese, add the eggs, salt and pepper and the crumbled bacon.
Enjoy.
NOTE:At times I will break the eggs into a bowl and then pour them into the skillet. Haven't had a yolk break yet.
Reviews
Most Helpful
An unbeatable combination-and totally irresistable. Next time I would probably fry off some mushrooms and squeeze them in between the cheese and the egg layer,just to make it even more decadent. I love the fact that you can also change the way you cook the egg to suit people's tastes (my DH prefers poached egg,so that's what he had on his),but scrambled would work really well too. A great start to the day-thanks Nimz!! Made for PRMR Holiday Special.

The perfect single serve lunch recipe! I had this the other day when I was stuck in a lunch rut and, oh boy, it's good! So easy to make and a divine combination! I mean, bacon always makes things better, right?!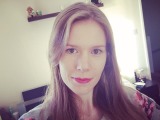 This is a great idea but 3-5 minutes for the eggs will be too long. Try this-spray pan with Pam, heat pan as suggested, put egg in the pan, salt and pepper, cover and cook for one minute-no peeking. Take the pan off the heat, leave covered for one more minute-still no peeking. You will have a perfect fried egg with nice runny yolk.