Debbwl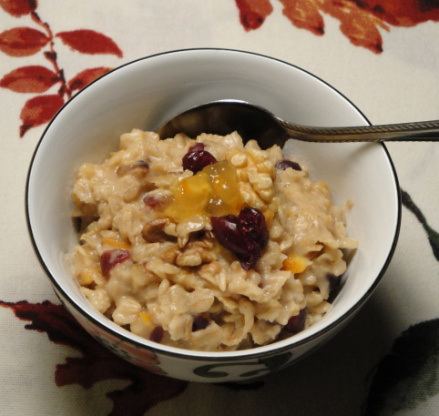 This is my favorite oatmeal - I'll eat it for breakfast or lunch! Very filling and super tasty with the dried cranberries, almonds and orange marmalade. Be sure to add the dried cranberries right away as they rehydrate while cooking which makes them very flavorful. If I'm not that hungry I'll reduce the oats to 1/4 cup and leave the other ingredients the same. Milk can be substituted for water if desired - when we ate oatmeal as little kids it was because we were out of milk for our cereal, so I always make my oatmeal with water.... personal preference is everything! *Note: 1 tablespoon of Smucker's sugar-free orange marmalade has 10 calories WW points = 3

Top Review by Debbwl
Very satisfying. We eat oatmeal almost everyday and really liked this one. Made using walnuts as we were out of almonds. Did have to cut the time from 2 minutes to 1 1/2 minutes. Will be making aging and again. Thanks so much for the post.
Mix all ingredients in microwave safe dish.
Microwave on high for 1 minute and stir, then microwave for another 2 minutes stirring every 30 seconds until your desired consistency is reached. In my 1200wt microwave it takes 2 minutes and 30 seconds for my liking - it does thicken a little as it cools.