Sunny Caribbean Black Bean and Mango Dip
kdub53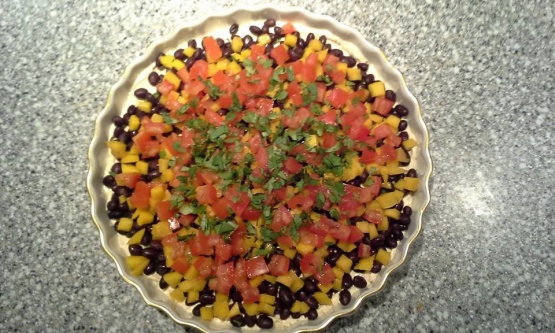 With a seasoned cream cheese base and a black bean, mango, and jalapeno topping, this dip is flavorful, light, refreshing, and colorful. Best made a day ahead, and great served with large tortilla chips(I like Tostitos white corn, restaurant-style chips), rum drinks, beer, Margaritas, and fruit drinks.

This recipe deserves a perfect score. Brought this to a bbcue & even the picky eaters loved this. Really enjoyed the combination of spicy & sweet. You really couldn't tell there was mango. however, I felt it was an important part to round out the flavours. The only thing I changed... I didn't have fresh cilantro so I added a tiny frozen cube to the dip part. Great recipe, thanks so much for sharing.
In a small bowl, thoroughly mix cream cheese, sour cream, and dried seasonings.
Taste for seasoning.
Spread mixture in an 11 inch glass pie plate or other serving plate of same dimension.
Sprinkle top with minced jalapeno, then black beans, then mango.
Cover well and chill overnight.
Just before serving, sprinkle tomato and cilantro over the top.
Serve with tortilla chips.
Preparation time doesn't include chilling time.