Susie D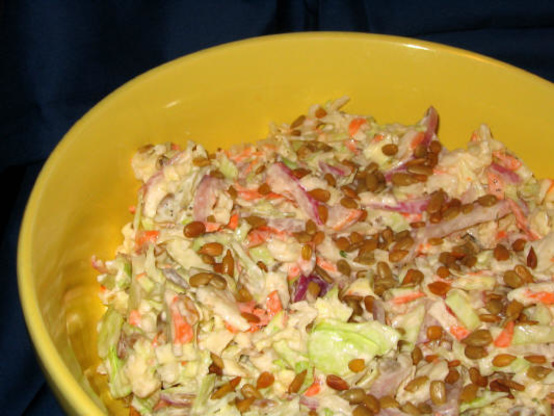 I know...strange name, but the sunflower seeds add that "something" that it needs...good with bbq and fixins and also fish...cook time is chill time...recipe is from a friend, similar to the Atkin's 'stuff'...I do not like slaw, except for KY Fried Chicken's, and I like this

A terrific spin on coleslaw! I really liked the dressing & the sunflower seeds in this salad. I chopped the cabbage by hand and grated 1 carrot. I liked that the dressing didn't get "runny" during the chill time. A recipe I will use again. Thanks kdp!!!
In large bowl, combine slaw mix (cabbage) and onion.
In small bowl, mix sour cream, mayonnaise, tarragon, vinegar, and sugar.
Add salt and pepper.
(to taste) Add dressing to cabbage mixture and toss to coat.
Add sunflower seeds and toss again.
Cover and refrigerate at least 1 hour for flavors to blend.
Serve chilled or at room temperature.
~Maybe made up to 1 day ahead.