Sunflower Seed Butter Cookies
COOKGIRl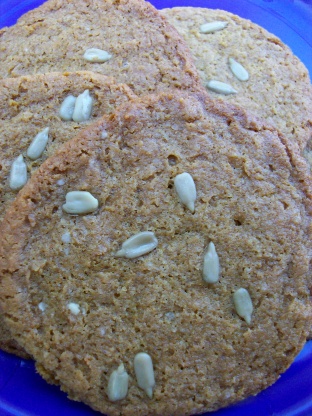 I got this recipe from a Trader Joe's publication, May 2008.
There is a natural chemical in sunflower seeds that, when exposed to certain baking conditions and baking soda turns it green when it's fully cooled. It's not harmful, but it can be scary if you are unaware.
Preheat oven to 375.
Stir together flour, baking soda, baking powder and salt.
In a separate bowl, beat together butter, Sunflower Seed Butter and both sugars until fluffy.
Beat in eggs and vanilla.
Gradually beat in flour mixture.
Wrap dough in plastic and refrigerate until well chilled, about 2-4 hours.
Roll tablespoonfuls of dough into balls with your hands. Place about 3 inches apart on ugreased baking sheets. Dip a fork in flour and press onto tops of cookies, making a criss-cross pattern on each cookie.
Bake for about 10 minutes, or until golden brown. Careful not to burn the bottoms. Cool on baking sheets for a minute, then transfer to wire racks to cool completely before eating.