awalde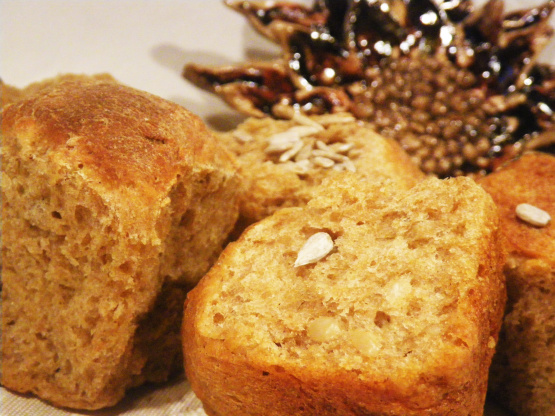 This is a recipe that I got off of an email group that I used to belong to. I don't remember the group. This is a wonderful bread and I make it often. I once forgot the sunflower seeds ( yes I actually forgot the sunflower seeds in Sunflower bread....I have 7 children) and it was still good. This makes a great sandwich bread. I suppose you could leave in the bread maker but I always use the dough cycle on my bread and finish it in the oven. I prefer the shape of bread baked in the oven.

Really good. Didn't have any powdered milk but it turned out great without it. Used the KA mixer to prepare dough: disssolved yeast in warm water and then stirred everything together in KA bowl. 4 minutes on speed 2 with dough hook. Took 25 minutes at 350 degrees in my oven. Thanks for sharing this recipe. I plan to make it many times!
Place all ingredients in bread pan according to manufacturer's suggestion.
I set in on the dough cycle.
Place in a sprayed bread loaf pan.
Cover in let rise again in a dry warm place about 40 minutes or until double.
Bake at 350 degrees for about 20-25 minutes.
Cool completely before cutting.
Slather with butter and enjoy.
Tastes best with chicken salad!